Wednesday, June 27, 2012
One more time down the I-5, boring when the rainclouds hide the volcanos, but full of anticipation for the Giant Road Trip to the Desert ahead.
One quiet night in Eugene, just as the I-5 gets beautiful, with sunset colours enchanting the green hills of the Willamette Valley.
I thought the second I-5 leg, from Eugene to San Francisco, would be equally boring; I was delightfully wrong. Southern Oregon was a mountainous paradise of winding roads and canyons, beautiful forests and tumbling rivers. Then just as we crossed into California and its inland plain, white Mount Shasta jumps out of the horizon. It looks like a strange ice cream cone stuck in the green & brown hills. You wonder how close the I-5 will get to the mountain, as you spend an hour approaching, then swing right up to its flanks! We stopped for coffee and terrific outdoor jazz music in the village of Dunsmuir, as they held a Railroad Festival. Xin bought an old thermometer and humidity meter at the market. I had a coffee in the sunshine, smiling whimsically at my addiction to caffeine, which has me drinking a hot cup on a hot day.
We had some excitement on an empty freeway cutting from the I-5 over to San Francisco, as the Prius suddenly flashed red warning lights only 10-20 miles after telling me to get gas. I'm used to having a good 100 km of grace. Scary moment in the heat, with no cars going by and no civilization in sight. Thanks for Google Maps on my blackberry, determined the closest gas station was back the way we'd come, 10 minutes or so. We made it with fumes to spare.
Sunday in San Francisco was delightful. We drove in the long way, over the Golden Gate Bridge, and got a bit lost, since I left the GPS unprogrammed and relied on a vague sense of where I thought the Mission District was. Wound up spending half an hour watching turtles and remote-controlled hobby boats in Golden Gate Park. Later we got to the Mission District, the goofiest gay paradise on Earth, with flamboyantly weird people. A beautiful huge man with Gold's Gym muscles and a deep black tan crossed Castro street, wearing black runners, a bit of jewelry, and nothing else. He hung out near a pair of fat old men wearing even less, sitting for a drink on the patio of the Twin Peaks bar.
The F-line trolley brought us slowly down Market Street and along Embarcadero to Fisherman's Wharf, for the obligatory photo-taking of Alcatraz. A taxi brought us back to the Mission, and we drove the Bay Bridge over to see the Berkeley Campus, full of imposing old Grecian buildings and older giant trees. Dinner with Leslie in a modern Thai fusion place on College Ave, called Soi Four (Soi4, to mix languages). Exhausted we happily returned to our Holiday Inn.
Monday was RV pickup. It was almost a disaster as they don't provide parking, and we were seconds from leaving our car in a Walmart parking lot before seeing the "we'll tow you if you park overnight" sign. We shifted to a quiet street in a nearby residential area. Off to the Sierra Nevada, slowly climbing out of urban Silicon Valley, past the wind farms through the mid-state valley with its hundred miles of agriculture. The roads got smaller and windier, and higher and higher, up to Yosemite Park. We passed the famous granite mountains with their beautiful cliffs and varied trees just as the sunset was coloring them. We found a campsite in Tuolamne Meadow with the last rays of the day. I almost broke the ranger's heart, a friendly talkative man who helped us find a campsite – I told him we were staying just one night, and he emotionally urged us to stay longer; "this is such a beautiful place!" I like how committed park rangers are; I think they truly love the places they ward and guide.
Tuesday morning, we took more pictures as we drove over the Tioga summit, California's highest highway pass at just under 10,000 feet. Then we watched the vegetation change as we took the day to drive into Death Valley. Over one desert mountain range, into another valley. The winding road started dropping along the edge of a canyon, multihued rock walls beautiful in the sunshine. There was a vista point so we pulled in. I thought I saw a model airplane flitting just over the canyon wall, and wanted to rush over to the edge to see who was flying it. Then the roar came up as the military jet soared out of the canyon, and in about 3 seconds was lost to view high in the sky. But it turned and came back & forth several times, diving into the canyon, or soaring out of it! He spiraled as he came out. We'd been musing 30 minutes earlier about what use people made of this barren land; military jet trials & training were on our list; I didn't expect to witness it!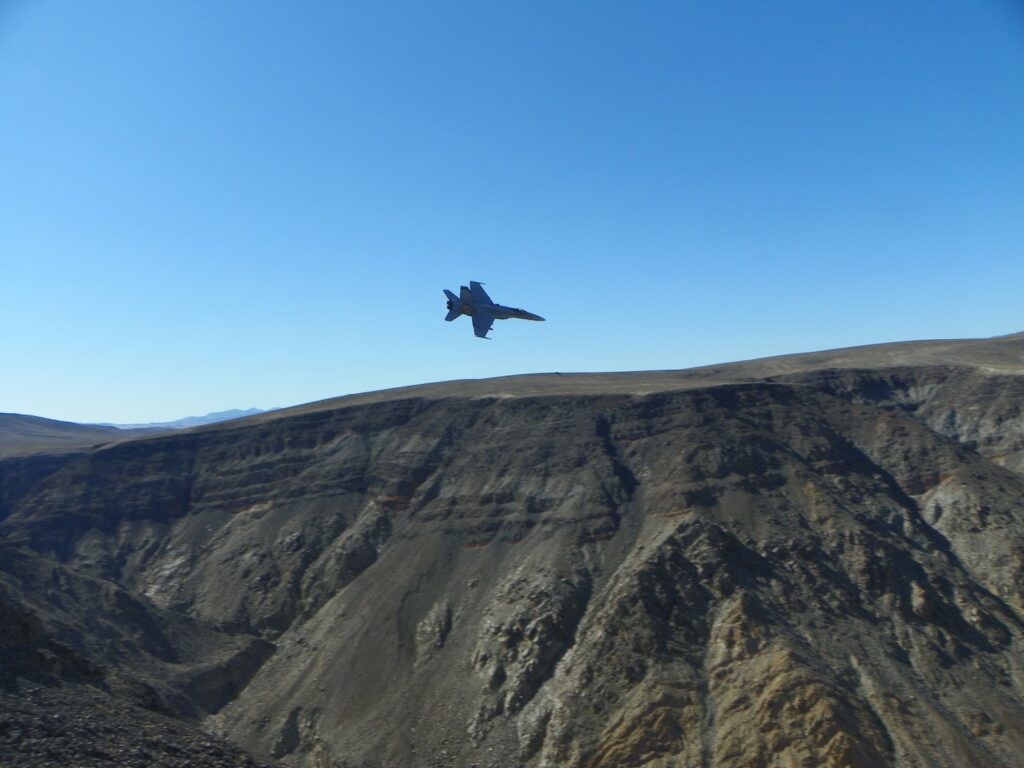 The canyon led down into a huge expanse of salty desert, but there were still brushes everywhere, beautifully weird cacti and crenelated grasses. Down to about sea level. But the road rose over another hilly pass. I lost count of how many mountain ranges we rode over. We had dinner somewhere in Death Valley, the RV pulled into a rest area overlooking the Mesquite Dunes, stunning swirling pyramids of sand trapped on the lee side of a mountain by funneling wind. The heat was a wall you walked into. The air conditioner at maximum barely kept us temperate.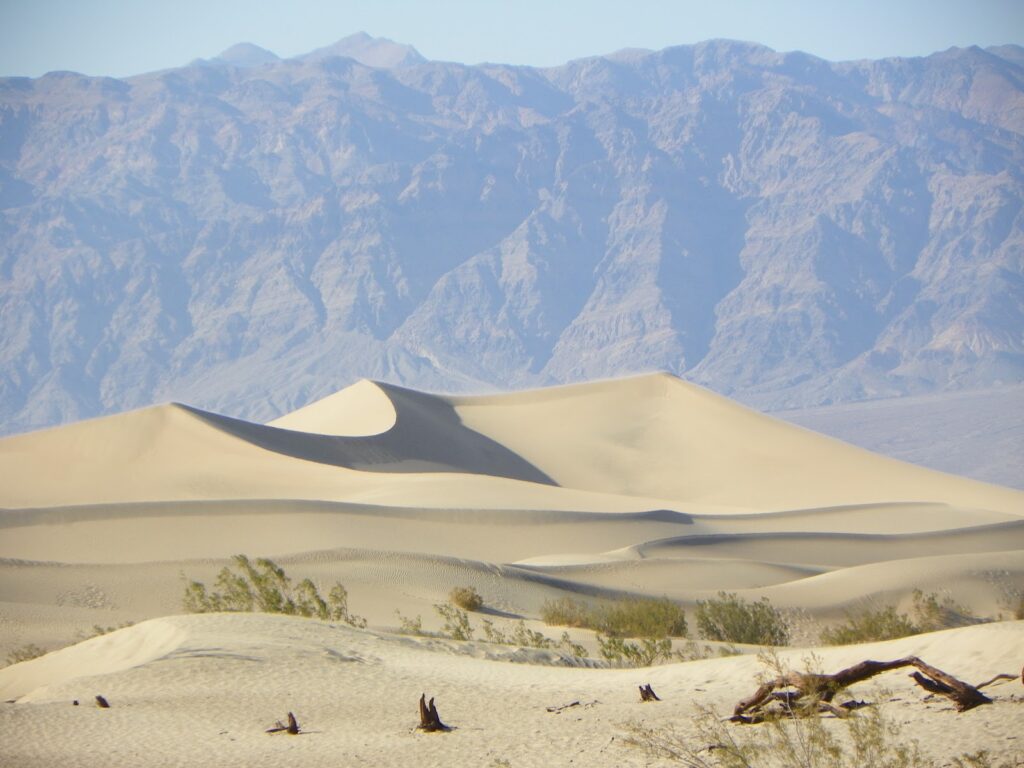 Running late and tired, I still took the 30-minute detour to the salt flats at the bottom of the USA. Oppressively hot, desolate, with alluring names like the Devil's Golf Course, and nearby Artist's Drive, there's a sign on the cliff 283 feet up, showing where Sea Level is.
We pulled into the city lights of Las Vegas about 9:30, exhausted.
Wednesday was Vegas Day. First we drove up the strip to a downtown RV site, the KOA right at Circus Circus. We seemed to be the only RV driving Las Vegas Boulevard! It was a tight squeeze between the taxis and construction sites and buses, but it was fun to drive past all the famous names. We gambled! I lost $10, Xin lost $1.50. I lost a lot more in a lounge, $27 for two cocktails, plus tip. We saved our extravagance for Cirque du Soleil, getting the only pair of tickets left, terrific seats 8 rows up from the stage. Wow!
Heading for the mountains, we left Las Vegas. It was pleasant to drive over simple plains of desert, miles of sage brush and distant mountains, without having to look at stunning new vistas every 5 minutes. We were actually tired of sensory overload. We pulled into Ruby's Inn, the RV park just outside Bryce Canyon, not too late in the evening.
I'm writing this bit on Friday evening, after another huge sensory overloaded day. After breakfast we took the shuttle into Bryce Canyon, and hiked for 2 hours round the Queen's Garden and Navajo Loop. Our jaws figuratively dragged on the ground the full time. Bryce is stunningly beautiful. I would take the best nature photo of my life, walk 10 feet, and have to pause again for the most intense landscape photo of my life, walk another 10 feet, and have to stop again, for the most beautiful photo of my life. It went on for 3 miles. I took hundreds of pictures, but left out over half the vistas that poured into my eyes. All my friends and family, please go see this some day. The pictures cannot do it justice. I've seen pictures of Bryce before, but I was surprised when I saw it live.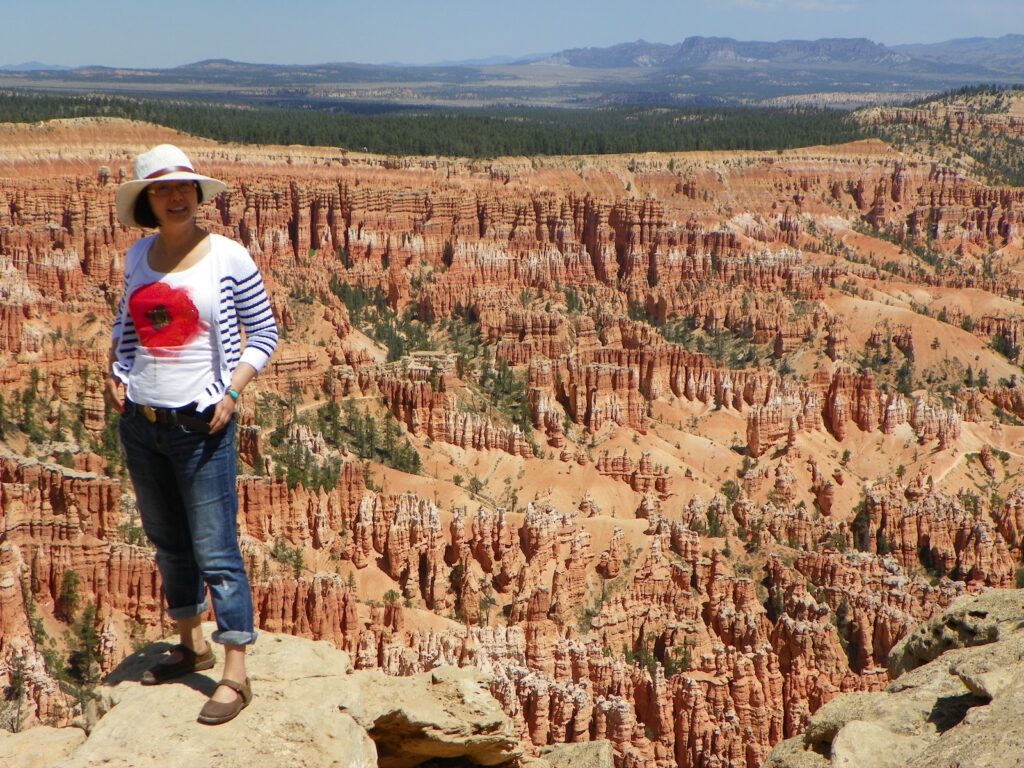 Now for an interlude: how to make a Bryce Canyon Sandwich, that is the most perfect and delicious lunch in the world. First, drive to Bryce Canyon park, and roast 1-inch lamb chops in a marinade of Korean BBQ sauce for dinner. Make enough for leftovers the next day. Carve the leftover chops thinly and layer with organic mini-tomatoes, slices of cucumber, a spicy cheese from Trader Joe's, Thai chili sauce, and some shredded candied ginger slices which have been soaking in a jar for weeks in the fridge. Then take a time machine back to mid-June 2012 for the perfect hiking weather and atmosphere. Take the sandwiches with you into the trees and mountains and hoodoos of Bryce Canyon. Eat when hungry. This is a very very difficult sandwich to beat.
Then we drove down the 89, and turned onto the 9, driving East into Zion as my father suggested. I thought Zion had to have been oversold – Dad said Bryce was worth a few hours, while I had to stay in Zion 2-3 days. How could it top Bryce? Well… Bryce has the hoodoos, larger than life, but the size of large buildings. It's almost personal. Zion… is utterly majestic, sweeping, huge mountain-sized. It has even more colour than Bryce. And I've only skirted the edges of it, driving to an RV site at the southern end of the canyon. We'll spend the weekend exploring it (while of course keeping up on email, Facebook, talks with family, texts with other VIPs, reading a few books, and catching up on some important work. Xin's grading graduate papers. I'm trying to catch up on The Economist and MacLean's. It's hard with all this beauty around me. I bought 4 books on my iPad for this vacation, and I've only finished one of them, a full week in.)
Wow. Wow wow wow. Saturday, the shuttle bus took us slowly up the Virgin River canyon into the heart of Zion. The stunning mountain vistas were broken by the window frames of the bus. I was tempted to leave the bus at every stop, but I knew a single 4-hour hike would be it for the day, and had to defer temptation to the end of the 45-minute shuttle ride. 3 million people visit Zion every year, so we were never alone, but it didn't matter. So many happy people, so many people overwhelmed by the scenery, absorbed in the hike. After a mile of paved trail for wheelchairs, the Narrows start. The cliffs are 1000 – 2000 feet above you. The small river winds, and the rocks follow. The little river carves the canyon, with the patience of a million years to create its art. I have seen pictures. I took 100. They cannot convey it. The play of colours, the soaring cliffs, the shrieks of happy teenagers, the surging water, the thrill of wading when there's nothing but water from cliff wall to cliff wall, the gardens hanging on rivulets above your head, the multi-hued rocks under a foot of water. It sounds prosaic, but the atmosphere at Zion makes it magical. My children, you must go here.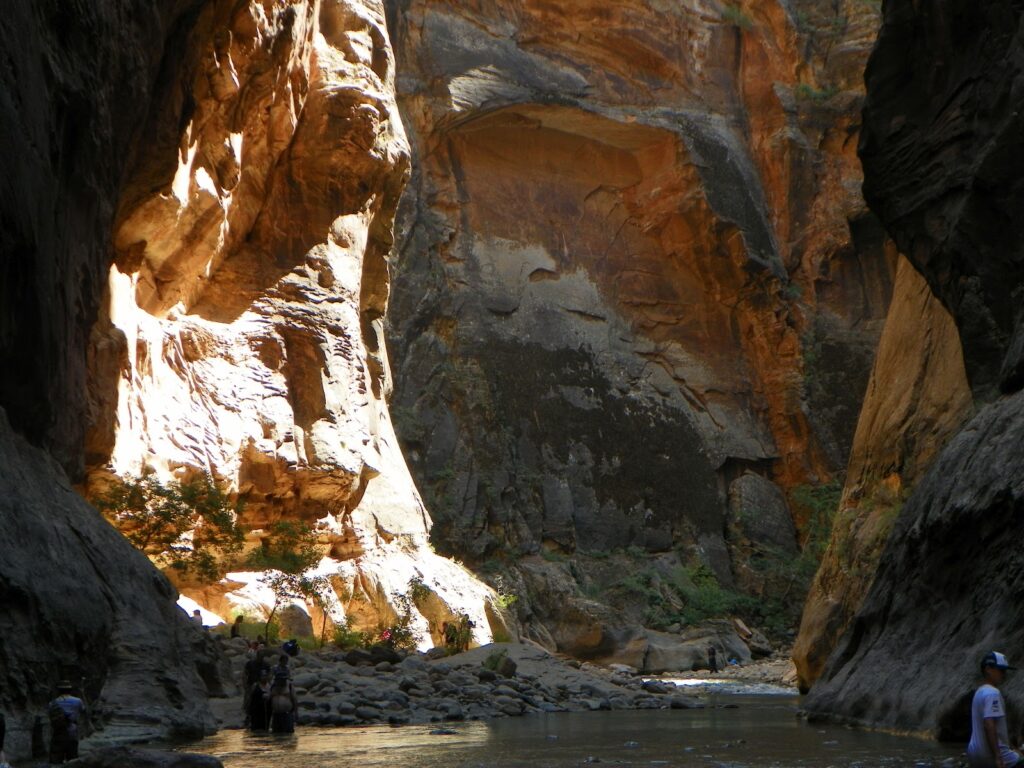 Three days later, we've hiked up the high narrow ridge to Angel's Landing, we've left Zion Park, and we've driven a long day through the deserts of Utah and Arizona to reach the Grand Canyon. On entering the park, the ranger at the kiosk told us with a smile that our "first view" is ¼ mile down the road. We were tired, wanted to get to the campground, but had to pull in. Again, wow. We've seen 3 famous canyons in a week, but each was utterly different from the other. The Grand Canyon is enormous. 100 Zions, maybe without the ethereal atmosphere or the same magical play of colours, but stupendous. I am grateful to the Americans who set up this park in the last century.
You know me, I like my statistics. One mile average vertical from the canyon rim to the Colorado River, a tiny blue ribbon you can see bits of from the top, between the fantastically carved cliffs. About 10 miles across from rim to rim. 277 miles end to end. But here's my favourite factoid about the Grand Canyon, from a geologist in the terrific 22-minute film at the visitor center: "It's a very young canyon through very old rock." The Canyon was carved in the last 6 million years, an eyeblink of recency in geologic time. The age of dinosaurs was 200 million years ago, but the last few hundred million years of rock have been eroded away, scraped form the Colorado Plateau long before the Canyon even started forming. The layers in the Canyon run from a few hundred million years ago all the way back to 1.7 billion years ago.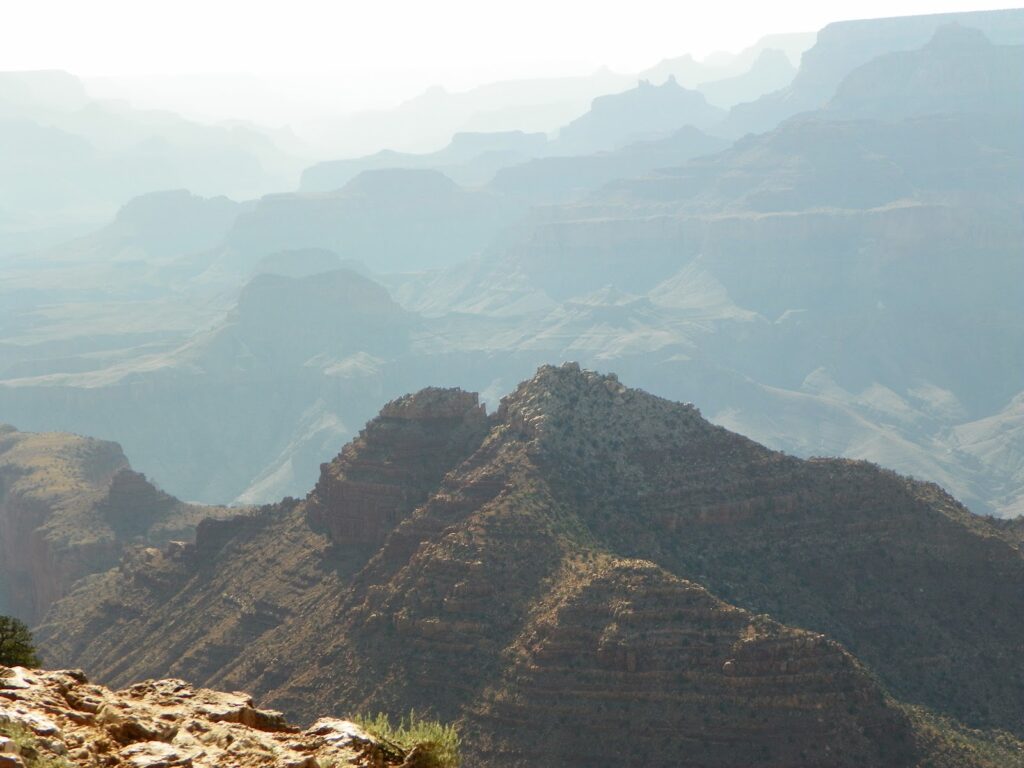 As sunset approached and the rim temperature started dropping from 40 degrees, we started a little hike down the Bright Angel trail, into the canyon. In daytime the temperature a vertical mile down at the river is about 15 degrees hotter than the rim, but in the evening it cools quickly. Xin walks pretty slowly, meditating on the beautiful colours, stopping for interludes of yoga. I abandoned her to see if I could make it to the 3 mile viewpoint and back by 8pm. We could see it from some bends in the path, down about three rock layers, only 600m vertical, a few hundred million years of geology. Most of the people coming up looked like they'd gone way too far. An Asian American family told me they'd spent two nights down at the river, but it had taken them 13 hours to hike up today, as their packs were too heavy. They looked exhausted. Less than an hour from the top, they didn't even look happy. On consideration, he said it wasn't worth it. Unfortunate planning. I kept having to pause for picture-taking. Each angle of the sun, each drop of a few meters, changed the perspectives and shadows and colours of the million cliffs. The brochure says you go up half as fast as you go down, but it wasn't true for me, thanks perhaps to Grouse Grind experience. I did the "4-6 hour hike" in 2.5 hours and felt terrific, inspired by the beauty (and the ego trip of passing so many people on the way down and then again on the way up).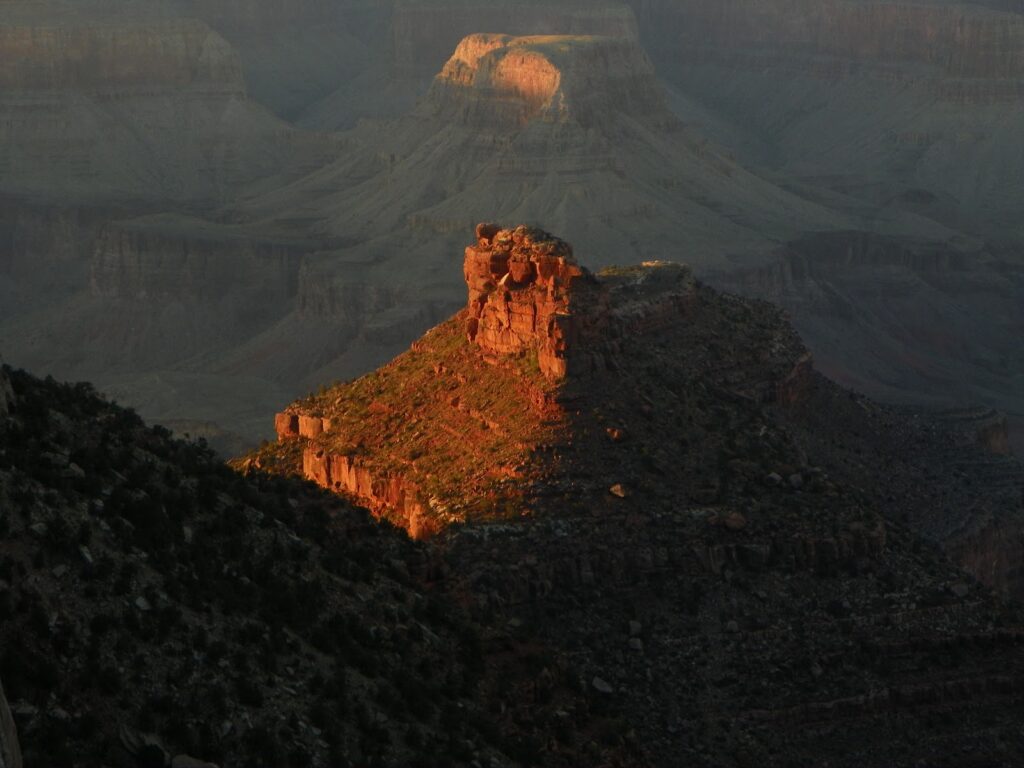 From the Grand Canyon it's a long day's drive along old Route 66 to the Joshua Tree National Park. The landscapes are familiar though I've never been here – they're the backdrop for Western Movies. It brought back Butch Cassidy and the Sundance Kid, so we watched that on Netflix later. I could see Clint Eastwood riding over the hills beside us in a dozen other movies. In reality, Bill Keys had a ranch in the Joshua Tree valley for most of the 20th century. He was forced off it in 1943 for a few years after a gunslung battle where he killed someone over a well. Bill lived on the ranch til 1969. Soon after it became a National Monument, and later a National Park. (The U2 album was in between, named for the same crazy-looking cactus trees, which thrive in harsh environments by reaching for the sun, and catching moisture from the air.) The towns outside the park look desolate, poor, in a barren wasteland of sporadic palms and irrigation. The lowlight of the entire vacation was checking into Joshua Tree Lake RV Park, 5 miles down a dusty road away from the park, lonely in the too-hot heat of June. The RV Park is actually pretty good, as good as you can get on a sandy field 20 miles across. They irrigate a fish pond and feed some ducks to keep them alive. After dark, it got comfortable, almost down to 20 degrees, with the stars a brilliant show. Almost as bright as back home in Fruitvale in the home I grew up in. (Nah, nowhere near that bright… but pretty nice anyway.)
Thursday we drove over the hill into Joshua Tree, and were stunned into pleasure once again. It's a granite playground for climbers, and a cactus garden for the eyes. It's an alien landscape created by Hollywood geniuses, except that it was actually created by natural erosion. Mozart's Violin Concerto played through the RV and it seemed fitting… a human aural masterpiece to complement the visual masterpiece of Nature. Again, another National Park, another utterly different environment, another type of beauty. This time, it had the emotional accompaniment of my brother who died in 1986, climbing mountains in Alaska. Ian had come to Joshua Tree to climb, like every fanatic climber in North America. It's heaven for them. I climbed up the crevice between a couple boulders to connect with him, and cried deeply as I reached the top. I cried for several minutes of communion and mourning for my brother. And I was filled with joy at the beauty he had enjoyed, knowing how happy he must have been here.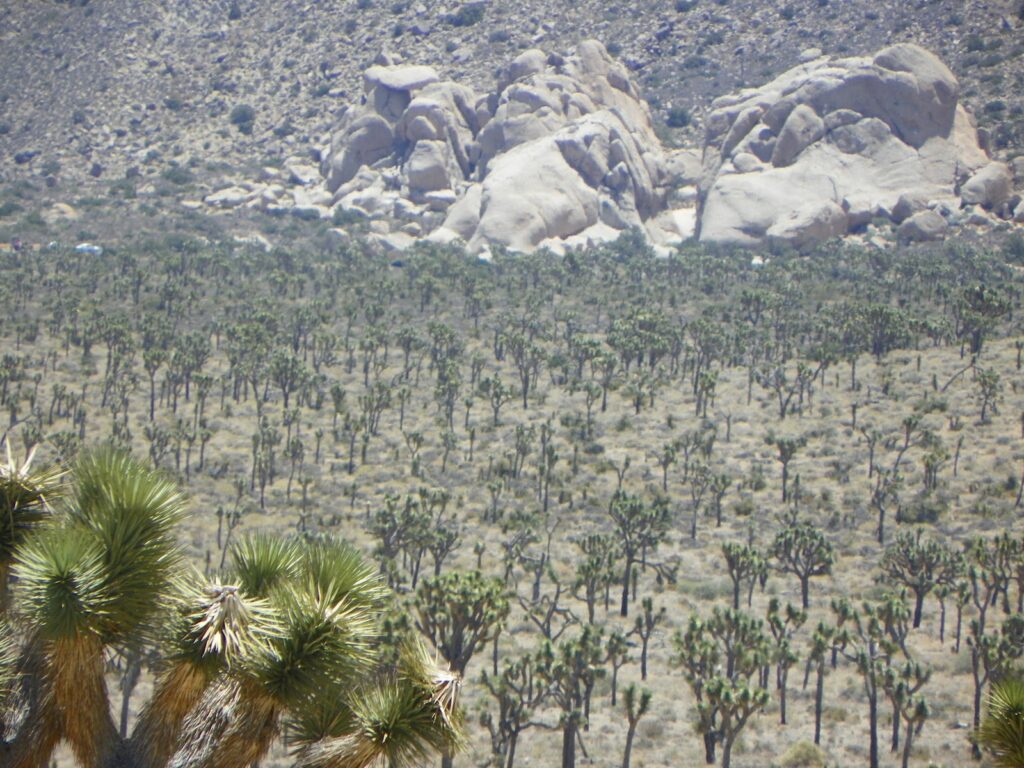 From a mountaintop viewpoint we saw Palm Springs, town of a hundred golf courses, and decided to pop in. Good-bye to Joshua Tree, and an hour's drive to the gay-friendly paradise. We went there for coffee, and felt like the only heterosexual people in town. The two men serving coffee were beautiful, and very friendly. The windmill farms and golf courses and palm trees feel like a false imposition on top of the sand… but a pretty one. On to LA.
I don't know much about LA, so I did a bit of random cellphone-Google research while stuck in 6 lanes of traffic on the way in. We decided to take the RV down Rodeo Drive, then up Roxbury where some of the movie stars live. The GPS tried to send me the wrong way down a few one-way streets, but we finally got to the heart of Beverly Hills. The LA traffic was phenomenal, in an interesting but not pleasurable sense. The freeways at 6 miles per hour are soul-numbing. Rodeo Drive looked boring to me, just a series of luxury stores with familiar names, and lots of tourists shooting photos. Lots of Audis and Bimmers and Lexus and Mercedes… and exactly one RV (us!). The Beverly Hills mansions didn't impress me either… pretty similar to the loops in South Vancouver off Granville, but on smaller lots, and with palms instead of pines. I was pretty tired though, after a day of deserts, emotions, traffic, and changing vistas. On through the city we drove, and found the Malibu RV Park (thanks to Google on the iPhone) before 8pm. Chinese dinner in the fading light, looking over the Pacific, listening to the surf crash onto the beach below us, watching the sliver of the moon fall into the mountains, I'm catching up my blog. I'm staying in Malibu's best mobile Chinese restaurant and hotel. Life is good. Exhausted again, I still have a few emails to attend, friends and family to check on. Vacation is such an intense, busy time for me!
Tired of desert heat and desolation, we spent the morning in the Getty Villa Museum, overlooking the Malibu coast. John Paul Getty was America's richest man for a while, built on oil, and he loved to spend it on Roman & Grecian art. He built a 2nd century Roman Villa overlooking LA bay, and bequeathed it to society. Free, all you have to pay is parking, and it's an intensely lovely concentration of classic beauty. The best parts for me were not the broken old statues, but the colonnade pools in the sunshine, the aromatic herb garden, the classic architecture, and the atmosphere of dedication to beauty.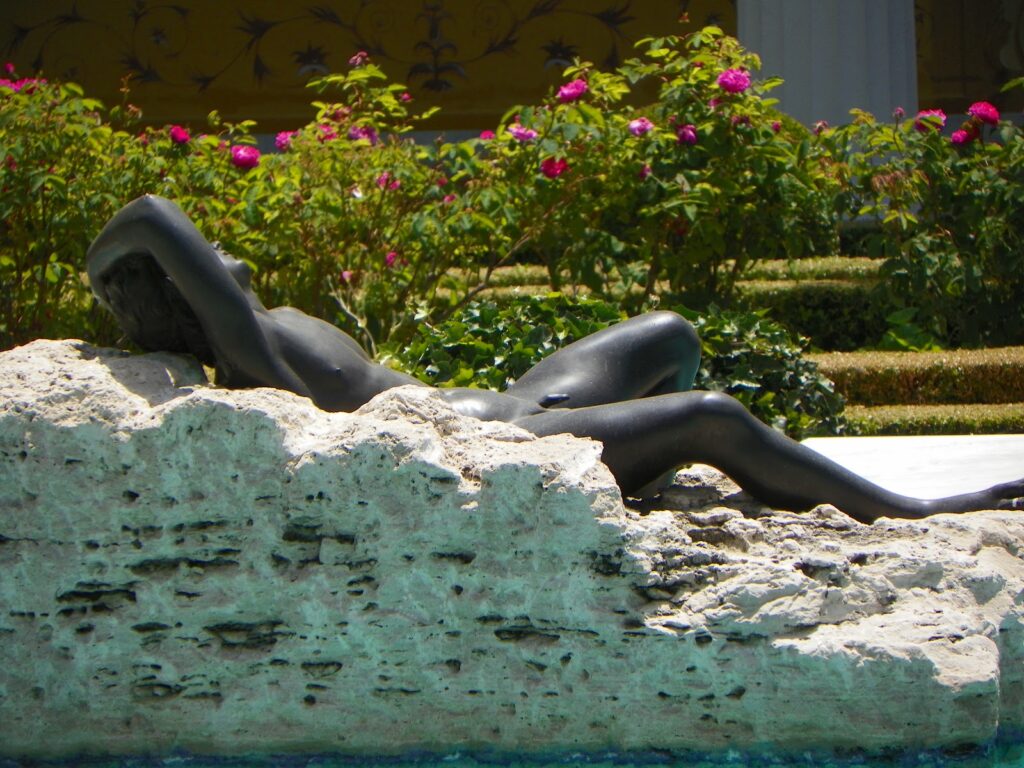 Sated we drove North from Malibu toward Monterrey, along the Pacific Coast Highway, full of flowers, falls, fields like Maui, winding roads through growing greenery. I love how it gets steadily greener as you head north, aiming toward the paradise of British Columbia… but slowly emerging from the San Diego desert, mile by mile, growing in green, building the anticipation. Anyway, a long way to go; we're still in semi-desert California, ranchland, with happy cows munching coastal grasses. Time for another castle. Saturday we took the tour bus up the hill to Hearst Castle. I had no idea what this place was, so Alex Trebek explained it to me over the tour bus PA system. Willam Randolph Hearst, having built up a billion or so in the twenties, went back to his childhood ranch, where he'd climbed the hill a thousand times to camp on the top and watch over the ocean. He told Julia Morgan, a well-known San Francisco architect, he was getting too old for camping, and wanted a "little place" designed on the hilltop. She never married or even dated, but their relationship flowered, and 28 years later the Hearst Castle was never finished, but was lived in and loved. The world's luckiest and richest all visited, from Chaplin to Churchill. Unlike the Getty Villa which is explicitly a museum, the Hearst is a home, which happens to have artwork embedded into every room and surface. It has the most beautiful swimming pool in the world, ornamented with marble columns and statues. Tapestries line the dining walls, the ceilings are carvings of teak, and incredible Persian tiles dot the rooms. Billiard tables center a room of incredible artwork, integrated so nothing is out of place, and even the telephone fits as an antique museum piece. Sadly, when Hearst died, his children and grandchildren had no interest in his treasure, trying to sell it off. They finally gave it to the State of California, which even today loses money on the millions it requires for upkeep and restoration. It is the number one visited State Park, and a sad, happy, beautiful story.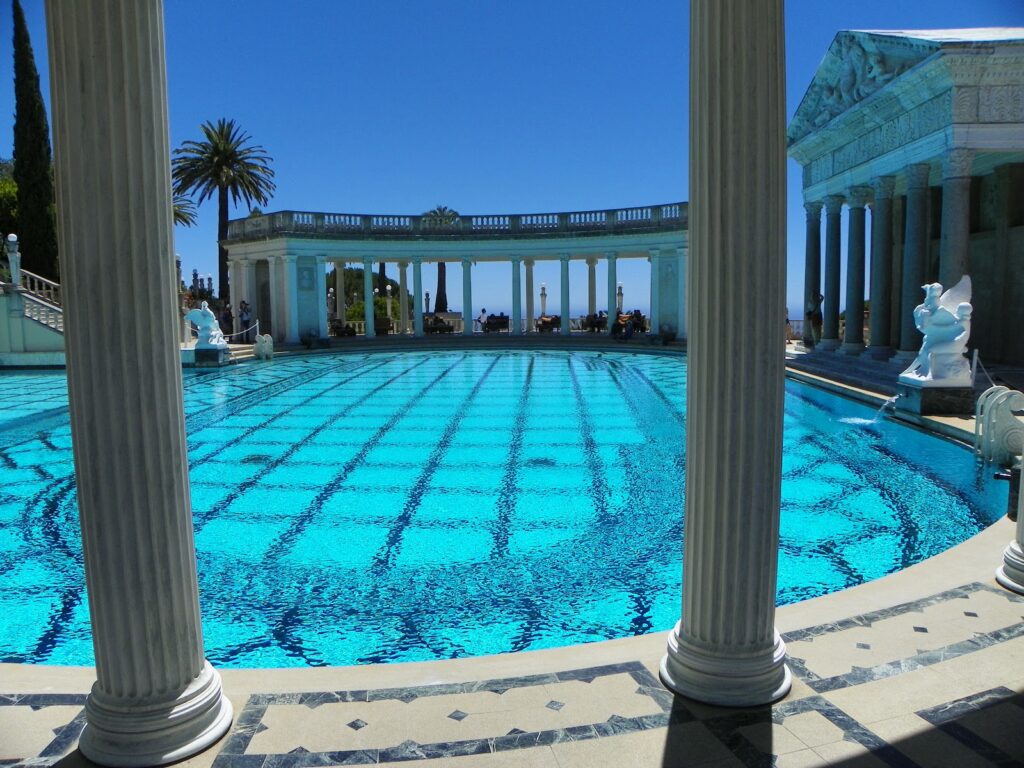 Mission Santa Cruz was one of 21 Spanish Catholic missions built in the 18th century. Some of the missions have original buildings as state parks; this one has a half-scale replica kitty corner, with a Catholic gift shop. On the original site is Holy Cross church; mass was under way as we stepped quietly into the 19th century church, with its beautifully stained glass windows and high arching roof. The priest was talking to a full church of varied families of all ages and ethnicities, talking in English about love, and living your values, making jokes about his weight and the meaning of his name ("increasing in God"). I like the superimposed history and modern eras, the warm sunshine making everything comfortable.
Our last night in the RV was in peaceful, happy Half Moon Bay, over the ridge from Silicon Valley. Seagulls coasting into the sun at eye level along the flower-covered cliffs as golf balls whiz by. We took an easy day, drove only 40 miles, found Pellican Cove RV Park on the bluff, next to the Ritz-Carlton golf resort, to watch the sun set into the Pacific from our kitchen window. We cleaned our hotel and restaurant, woke up early to run over the mountain and give it back.